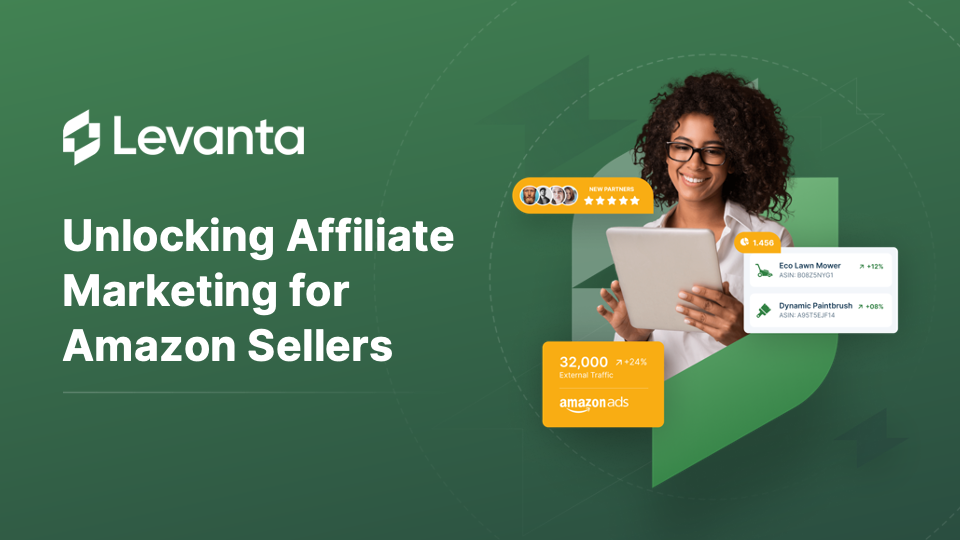 As selling on Amazon becomes increasingly competitive, are you looking for new ways to scale revenue? You may already know about affiliate marketing – partnering with creators who can promote your products on a revenue-share basis. But, did you know that you can now unlock the channel for Amazon?  Levanta.io offers a simple solution to unlock affiliate marketing as a scalable revenue channel for your Amazon business
to drive more traffic, improve your organic search ranking on Amazon, and increase your revenue!
How does it work?
Levanta operates on a cost-per-sale model as opposed to your typical cost-per-click Amazon marketing campaign. When your products are marketed by creators, you only need to pay for each sale that is tracked through Levanta, rather than each click. This opens up a new (and much less risky) method of acquiring new traffic and revenue. Now you can tap into a variety of new external channels (i.e. influencer, content, media buying, etc) while only paying for results. 
By listing your products on the Levanta marketplace, your products will get organic exposure to thousands of creators that can drive more external traffic to your Amazon store. Creators can discover your products and create affiliate links to share with their audience across numerous channels. The more creators that promote your brand, the more exposure your products will get, in turn driving more revenue. But there's more… the benefit is twofold because increasing external traffic to Amazon also boosts your product's organic search ranking. 
Paying your creators is also much easier with Levanta. If done manually, paying your creators can be a mess of spreadsheets, individual wire transfers, and 1099 reporting that can be complicated and time consuming. Your time would be better spent focusing on growing your business instead of being bogged down by paperwork.
With Levanta, you can automate the entire payment and 1099 process. Rather than managing everything at the individual creator level, you pay one simple monthly payment. Levanta then automatically distributes commissions to all your creators and will even file and report your 1099s for tax season. As your affiliate program develops and grows, you may have hundreds of creators that you'll need to keep track of and Levanta streamlines the whole process for you. 
Ready to create an exceptional affiliate program?
We're here to help, just follow these four simple steps:
Product Import. Sign up for Levanta and import your products into your new affiliate program. With Levanta, all it takes is a few easy clicks to import your Amazon products (ASINs) and start connecting with creators.

Set Commissions & Activate Products. Once your products have been added to the marketplace, set commission rates and then you're ready to go! Your products are now visible to a network of creators eager to promote you.

Attract Creators. Recruit your own Creators or use Levanta's Marketplace

to list your active products and partner with pre-vetted Creators of your choosing through the Creator Marketplace. After creators have joined your Amazon affiliate program, they will receive unique Amazon product links to use in their promotional efforts. When they successfully drive a sale of one of your products, they accrue the commission you previously set. Products listed with higher commission rates are more visible within the Levanta marketplace.

Track, Measure, and Pay. Use Levanta to track your affiliate sales and pay commissions earned across all your affiliates in one easy to use SaaS platform.
Affiliate Marketing is the newest revenue stream for Amazon Sellers. It's time to unlock the channel. You can get started with Levanta by signing up here!