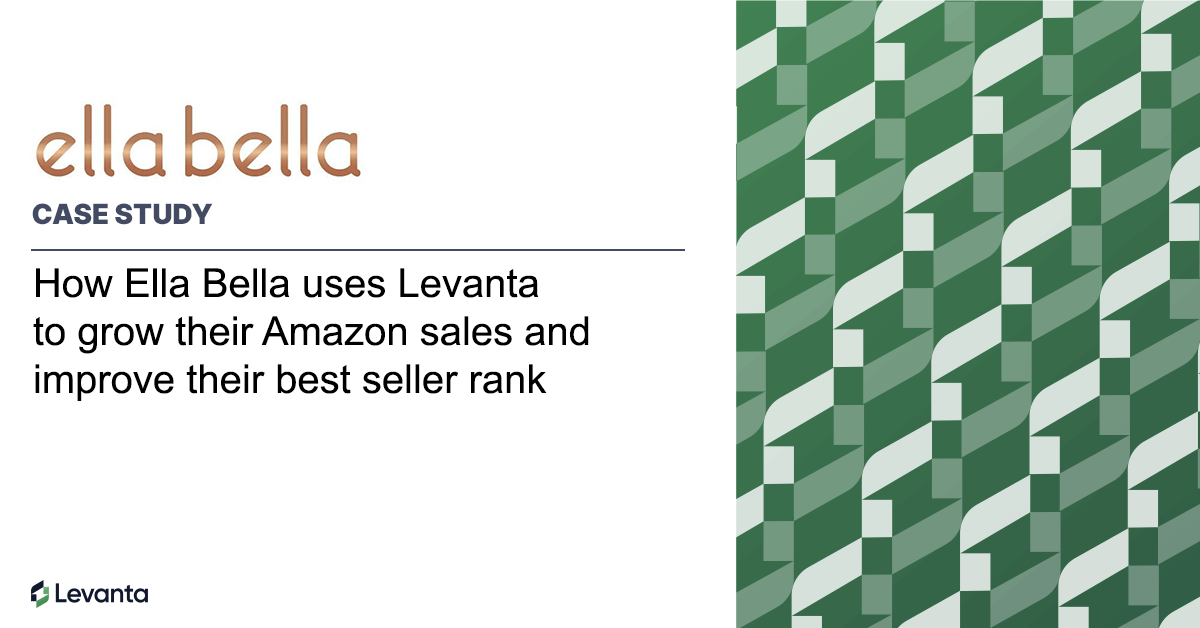 Ella Bella create and sell a range of premium hair care products on Amazon. They've been in business since 2020 and have grown tremendously over the last six months, since starting to use Levanta's affiliate marketing platform in May 2023.
Paul Nicoll, co-owner of Ella Bella, was drawn to the platform because he wanted to explore new ways to increase traffic and sales to his Amazon store. Initially hesitant to adopt an untested marketing strategy, he was quickly convinced of its wisdom by the immediate positive results.
"Levanta has unlocked one of the longest standing and most lucrative channels in e-commerce for Amazon sellers."

Paul Nicoll

Ella Bella
It was easy to recruit affiliates
Paul was immediately impressed with how easy it was to use Levanta. He was able to quickly find and recruit affiliates and influencers who were interested in promoting their products. Levanta also made it easy for Paul to track the results of the affiliate campaigns and manage their payments.
"Levanta has automated the entire affiliate marketing process for Ella Bella. This has freed up my time so I can focus on other aspects of my business, such as product development." enthused Paul.
Quickly improved best seller rank (BSR) on Amazon
Within a few weeks of using Levanta, Paul saw a significant increase in sales from his affiliate marketing campaigns. The increased traffic from his affiliates also helped him improve his organic search ranking on Amazon and his Best Seller Rank, which is a key metric for success on Amazon.
""I'm really happy with the results we've achieved with Levanta. It's been a game-changer for my business."

Paul Nicoll - Ella Bella
Multiple Benefits
Increased traffic and sales on Amazon
Levanta helped Ella Bella to reach a wider audience of potential customers by connecting them influencers in the beauty niche. This immediately led to a significant increase in traffic and sales to their Amazon store.
Improved organic search rank
The jump in sales from the affiliates triggered an improvement in their organic search rank on Amazon.
More organic sales on Amazon
Thanks to the jump in their Best Seller Rank they now consistently show up more often in Amazon's search results. This translates to a substantial increase in organic sales.
Streamline Payments
In the past, Paul would have had to rely on affiliate partners to manually track commissions and manually send payments to his affiliates. This was a time-consuming and error-prone process.
Levanta has automated the entire process, so Paul no longer has to worry about manually tracking commissions and sending payments. All the data is in Levanta for everyone to see.
"Running an affiliate program on this scale just wasn't possible before using Levanta"

Paul Nicoll

Ella Bella
Reduced Advertising Costs and more Brand Awareness
In addition to the benefits mentioned above, Levanta has also helped Ella Bella to:
Reduce their advertising costs
Ella Bella have reduced their advertising costs by driving more traffic to their Amazon store from affiliates. The knock-on effect of improving their BSR is more organic sales and a big reduction of TACOS on Amazon.
Build brand awareness
Levanta has helped Ella Bella to build brand awareness by exposing their products to a wider audience of potential customers through their affiliates and influencers.